Benefit, Charity and Fundraising Auctions
​"With Stephanie as our auctioneer we had more fun and raised more money than ever before, We can't wait until this years event!
Georgia, Camden Chamber of Commerce
"I don't know how to express how much we appreciate your auctioneer expertise at our recent Fun'd day event. Everyone loved your style and wonderfully sweet personality. You were kind, warm and professional from start to finish... This years auction was a record breaker for us!... We would love for you to provide your services again next year!"
"Last years auction went extremely well! you did an awesome job selling the 1989 Browning, everyone was amazed at the final bid price on that item! We hope you're available for our event this year"
Alan- Ducks Unlimited, Mad River Chapter
Her main goal is to help your charity or organization raise money for your cause.

Stephanie is able to help you from start to finish to have a successful event, year after year.

She has a great personality, is personable, motivated and experienced. Her auction chant is defined and perfect for first time auction attendees or seasoned auction veterans.

Stephanie is an auctioneer and an entertainer. She knows that not everyone in the crowd is going to be an active bidder, but that they also want to be entertained and be a part of the fun!

As the auctioneer for your event, she knows she's an ambassador for your organization and takes this very seriously! She works diligently to have a knowledge and understanding of what your organization stands for.

Stephanie is a member of the National Auctioneer Association as well as the NYS Auctioneers Association where she sits on the board as Treasurer.

Stephanie resides in Camden, NY with her son Tyler.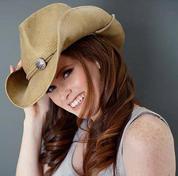 HOW MESSIER'S AUCTION CAN HELP YOUR ORGANIZATION
Non for profits and small organizations or fundraisers are always competing for funding. That means we need to work with you to keep your donors focused on you.

Auction attendees are also getting younger. With social media and busy lifestyles, they have shorter attention spans and are looking to be entertained. They want to be part of a giving experience that all of their friends will be talking about and that they can post on social media.
Stephanie not only understands this need, but also creates our events to cater to it. We pride ourselves on entertaining your audience, helping you raise the most possible money, and retaining and engaging new donors.
CONSULTATIONS are very important!
This is the foundation to every successful event. Stephanie will go over your present event with you and discuss what you liked, and what you think might need to be changed from your previous event.

We will discuss your goals for your event and help you create a road map for you to follow. The consultation can begin as far in advance as time allows.

We will be with you every step of the way helping you plan out your event. With our experience and knowledge we can save you precious planning time, and help you with all the aspects of conducting a fundraiser event. Whether you have done this 30 times, or this is your first event, we will assist you in creating a record breaking event.
If your organization is looking to have a fund raising event please contact

Stephanie at 315-447-6440 or via email Messiersauction@gmail.com

Stephanie will set up a consultation via phone or in person to go over your event, so we can get you on your way to the best fundraiser you've ever had!